Hey! It looks like you're new here. You might want to check out the introduction.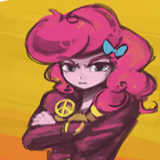 JaketheGinger
Clearly the change was intended to stop me and my meme reviews.

No longer shall I have any fun images to use! Curses.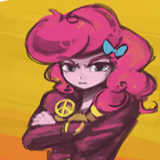 JaketheGinger
Well that's a first. Got an idea instantly that I committed to and finished!

As for the site, ehhhh... kinda awkward to use it. At least for pony stuff. Seems like more effort than it's worth on Roger's part to design a whole new feature of the website, especially if it's gonna be like Fimfic's system.

(Also I miss muh images. Send help.)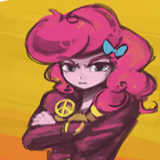 JaketheGinger
Well this is a first. Not one, not two, but THREE entries done baby!

Maybe lightning will strike.... fourthice? What goes after thrice...

Whatever, I'm happy.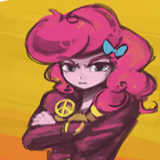 JaketheGinger
>>FanOfMostEverything
No need to label, really.
It tells you what story you're commenting on at the top of your post, next to what time you made the post at.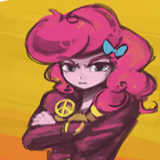 JaketheGinger
Biggest problem here is a lack of coherence on who exactly the narrator is. I know now it's Spike but I only gathered that by the end of the fic, making the rest of it wholly confusing to read. At one point I thought Gummy may have been narrating, since we were in Sugarcube Corner and nobody had spoken to him directly.

Then the fic just kinda changes ideas from a baking mishap to time travel.

'kaaaaaay.

That's way too big in scale for a 750 word minific. It's basically two ideas. Definitely possible for a short story but this is a minific. Ya gotta be extremely selective in these.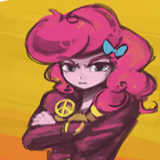 JaketheGinger
Small niggle but given that this seems to be going for a show tone and setting, the use of 'bitch' feels a bit out of place. That's just personal opinion.

As for the fic itself, it's nice but feels kinda drive by. Everything takes place from Rainbow's perspective so we never see that conversation Fluttershy has with her mother. Now, that's not a bad thing in itself but we don't get nearly enough detail on Rainbow worrying and waiting. It's only, like, one or two paragraphs long. If we're going with Rainbow's perspective, we need more of her feelings on the situation, for the reader to really connect with the situation.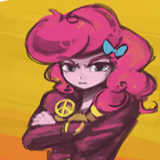 JaketheGinger
A little telly in places at the beginning, for example:
Diamond Tiara smirked at the discovery of her opponent's weak spot.
ECH.
Was nice on the whole but as the others have said, it needs more.
I, however, have a different suggestion than what they might propose. The second part? SCRAP.
It's not bad but if you wanted to keep the length short, cut that part, and add in a bit at the beginning about Lily coming up with the idea of using her strength to save Equestria.
I think going from that to seeing her dreams get crushed under Tiara's hoof would make the fic feel much more complete.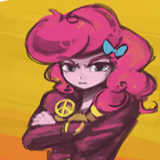 JaketheGinger
Is this memes?

As someone who loves memes myself, this speaks to me. Just because you use memes, doesn't mean you're a drooling idiot or something. You just think memes are funny and have a different sense of humor than others. This story is all silly style and hidden substance.

Thought it'd annoy me at first but I got the message and smiled in appreciation.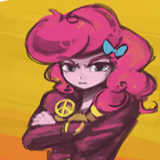 JaketheGinger
Fun idea but, I dunno, there's a lot of dialogue without much description so the whole thing feels a bit too rushed for me.

And did Discord just... create life? I thought he was going back in time and plucking these extinct animals from their time zones but apparently not.

But... isn't creating life order? I, uh...

I'm thinking too deeply about this aren't I.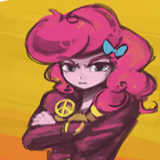 JaketheGinger
I smirked.

Reminds me of episodes in kids TV shows where for that one episode the bad guy wouldn't be so bad and would work with the protagonist, at least for a bit.

Like others say, I think it could be made even better if the ham was juuust a bit hammier. Maybe Daring lamenting on the fact that she will never be able to write a book and Ahuizotl's stunned by this revelation and asks why he never got royalties from the sales.

... holy crap that's a good idea in itself.