Hey! It looks like you're new here. You might want to check out the introduction.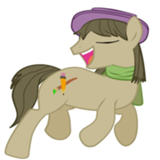 Zaid Val'Roa
Can't wait for the exposé on Fluttershy's substance abuse.
Overall, there's something about Pinkie's pose that seems... stiff. I can't put my finger on what it is, but she feels a bit wooden.
On the other hand, I like her thighs, so it's all forgiven.