Hey! It looks like you're new here. You might want to check out the introduction.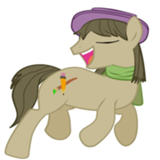 Zaid Val'Roa
Together forever and never to part
Together forever we two
And don't you know
I would move heaven and earth
To be together forever with you

---

Of course, when it comes to all other constellations, they're just a couple of dots here and there meant to represent an image, but when it comes to you and your sister it's a full rendition, isn't it, Luna?
Narcissism aside, I like the concept and execution. It's simple, but it manages to evoke enough of the story for me to appreciate.
Well done!